Ajax TOCCO Magnethermic Canada
Ajax TOCCO Magnethermic®, a subsidiary of Park-Ohio Holdings Corporation®, our total efforts are devoted to the manufacture and service of the electromagnetic induction equipment that is used for the heating, heat treating, and melting of metals.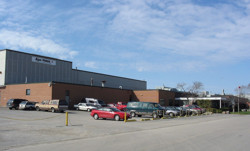 Our expertise and product line include:
Coreless-Induction Furnaces
Induction Heating Applications
Heat Treat Applications
Power Supplies and Ancillary Equipment
Channel-Induction Melting Furnaces
Ajax TOCCO is a progressive and engineering-oriented company. We have developed many of the metals processing methods that have become industry standards, such as:
Jet Flow Melting Inductors
Zinc Coating Pots
Quench and Temper Heat Treating of Oilwell Pipe
Galvanneal Process of Steel Strip
Hollow Bar Coils for Coreless Furnaces
Serving Canada for over 50 Years! Our worldwide organization is the largest and longest established in the industry, and our after-sales service and support are second to none. We also attend to the details of metals processing, an example being the innovations we have made in the development of water-cooling systems. You may be confident that the system we recommend will be the best for your application.
| | |
| --- | --- |
| | For Immediate Local Assistance call: 1-800-421-5274 |